Meeting Princess Margaret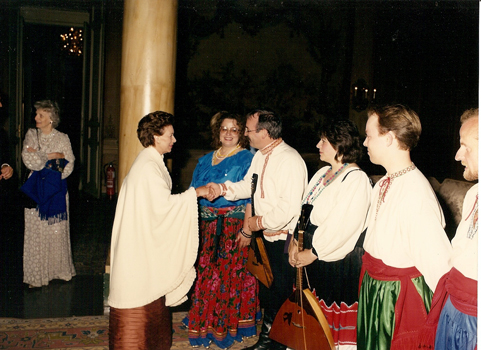 Bibs Ekkel, prima balalaika soloist, is one of the top masters of the instrument outside Russia. His style elevates the balalaika to the stature of concert instrument while retaining close ties with the instrument's folk heritage. He has entertained Royalty as well as ordinary folk with his extensive repertoire in settings ranging from cabaret to symphony hall. His song and dance company, "Tziganka", as well as his folk group "Russian Tornado", regularly tour and he has performed as soloist throughout the world - with TV appearances in Russia, Poland, China, Britain, the US and Canada.

Performances

Raisa Gorbachev Foundation Ball; Last Night of the Proms 2006; Elton John's Charity Ball; Andreyev Balalaika Festival, Vyshnii Volochek, Russia 2007; Jerry Springer Show; National Lottery; World Cup 2004; Hall of Columns, Moscow; Orpheum, Vancouver; Tchaikovsky Hall, Moscow; Purcell Room; Queen Elizabeth Hall; U.S. & Canadian tours; BBC Welsh Orchestra; London Philharmonic Orchestra; Melody Maker Outstanding performance prize; Theatre Royal, Bath; All-Russian Folk Festival, Yaroslavl; Miss World Contest, Royal Albert Hall; Wigmore Hall, London; BBC Radio Friday Night is Music Night; Bermuda Music Festival; Moscow TV-1; King's Royal Hussars Officers Banquet 08

Society Parties and Soirees

Lord & Lady Aldington; Lady Lennox-Boyd; Lady Castell; Lady Carolyn Townsend; Princess Yuri Galitzine; Princess Helena Gagarin Moutafian; Lady Shawcross; Countess Benkendorf; War & Peace Ball; Russian Monarchists Ball; St. Petersburg Ball; Disney's "Anastasia" film premiere; Annabelle's; Rudolf Nureyev Birthday Party; Count Bismarck; Count Tolstoy... etc

Movies

Eastern Promises; Enemy at the Gates; The Lost Prince; The Man Who Knew Too Little; "Onegin"; Riley, Ace of Spies; Anna Karenina; Crime & Punishment; Gulag; Englishman Abroad; Living Daylights; Swept from the Sea; Comrades of Summer; etc.

Hotels

Dorchester; Grosvenor House; Cafe Royal; Intercontinental; Hilton; Landmark; Inn on the Park; Hotel de Paris, Monte Carlo; Savoy etc.